Is anyone else behind on anything?
If you are NOT, please click the contact button on the bottom right corner of my header and contact me immediately! I am in desperate need of advice...
Some very sweet blogging ladies have shared some of their awards and although I have thanked each one personally, I have not gotten around to posting the pictures...or sharing my blessings...
Christy Rose at The Secret Life of an American Wife and Mom has shared two awards...
Friendship hits the spot award
You add sunshine to my day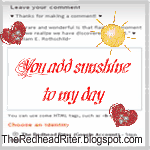 Melissa at Melissa's Merry Mayhem and Madison at Fight of Your Life have both shared...
Honest Scrap
Christy, Melissa, and Madison are all wonderful sisters in the Lord...they each have different stories to tell that will bless your heart. Encouragement, honesty, inspiration, hope, humor, and heartfelt emotion are shared through these women's blogs, and I encourage you to visit each one if you have not already.
Blessings from friends are always fun to share, but I am always indecisive when it comes to choosing a limited number of blogs in which to pass the awards. So...rule breaker that I am...if you follow my blog, or just stop by to visit, please feel free to share in these blessings...
One stipulation of the Honest Scrap that I have done before is to list 10 things about yourself that others may find interesting. So...rule breaker that I am...please find 10 8 ok 6 trivial weird interesting things about me...
I

FORGOT

my first

blogiversary

...October 26th was the day and I had thought about it the week before...mentioned the fact to my son who promptly said, "

Ohhhh, are you taking your blog out to eat for your anniversary?

"...but I was out of town, so no anniversary post...
I could live in a

library

and be happy...
Before I had

grandkids

, I did not believe I could ever love any other children as much as my own...
In cold weather, I love

hot tea

during the day and

hot chocolat

e right before bed...
I can not seem to keep my tiny

laundry room

organized to save my life...
During times when I am low, or discouraged, or just plain worn out, my

God

always

...through one venue or another...speaks to me and reminds me I am

HIS

and everything is under control...and then confirms it by a second or third outpouring of the same WORD through another source...it never ceases to amaze me!
Now I am caught up...on one thing at least....
Thanks again to all my blogland friends...you bless me more than you will ever know!