When my boys were young, we had a cat that liked to play very roughly. We all carried battle scars on our arms from where he would grab on with his paws and play around. Nothing permanent or damaging...just souvenirs of claws that enjoyed grabbing hold of a bare arm...brief smidgens of pain that were forgotten seconds later... though the scars remained for a while.

The cares of life can be like that sometimes...worry grabs hold for a second...leaves a little mark...nothing permanent or damaging...but later anxiety comes around for a swipe...ouch, that hurts a little...then all is forgotten for a season...until despair decides to latch on and dig deeper...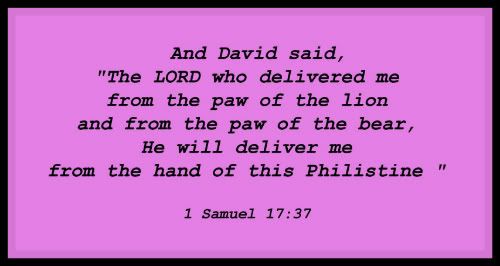 Young David was confronted with the swipe of a lion's paw, the claws of a bear's paw, and then an enemy of the Lord...but he knew

Jehovah-Mephalti - Lord my Deliverer.